Learn how to attract the most powerful force on the planet - Love. It's what we breathe for, it's how we connect and is what makes life full.
• 2021 Elevate Strength Summit
Is there something you need to heal from in your past so that you can move forward as your fullest and truest self?
Have you gotten extremely clear on what you want in your personal and professional relationships so that you can effortlessly attract them?
Do you want to learn how to love yourself on a deeper level so that you can overcome anything life throws at you?
How will expanding and deepening your relationships transform your life?
Learn to Truly love yourself
In order to truly love others, you must first learn how to love yourself.
While you're here you will learn how to:
Increase your capacity to love and be loved.
Breakthrough whatever has been holding you back from the love you deserve.
Attract everything you desire in your life by first becoming it.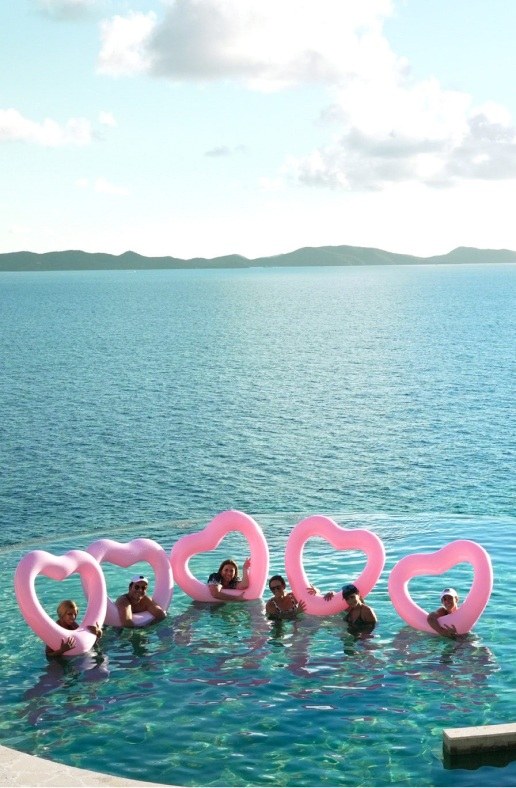 Create More Meaningful Relationships
Once you have learned how to love yourself fully, you will develop next-level relationships with others.
While you're here you will learn how to:
Elevate your relationships to attract more money, energy, longevity and fun.
Develop excellent partnerships and create bonds for life.
Expand your business through intentional networking and relationship-building.
Here's what to expect during your all-inclusive summit experience.
If it's here, it's good for you. All food and drink is included with your stay and will be prepared using locally-sourced, high-quality, and nourishing ingredients by the head chef and island hosts.
Explore the beauty and adventure of the British Virgin Islands. During your summit experience you will have exclusive access to all water, land, and wellness activities and amenities.
Rest assured, you're in good hands. After booking, you will be given a personal island concierge that will ensure a one-of-a-kind experience including travel to and from the EIS airport.
Each day on-island during the Elevate Love Summit will teach you how to attract and expand the love in your life through morning and evening sessions. In between sessions you'll be connecting with others, yourself, and nature in the most beautiful place on Earth - the BVI.
This summit will bring together a tribe of like-minded people and Day 1 is the time to get to know everyone that you'll be spending this life-changing week with. Set your intention for the week, so you have the clarity to uncover all that this Elevate Summit has been designed to pull out of you.
Meet the Speakers Who will guide your summit experience
Britnie Turner has lived her life coming from a place of love first. Her love for people and passion for creating opportunities for those who have none has led her to form the Aerial Group of companies and G-FORCE.
Britnie knows the importance of love in your life and how powerful understanding that you are a person worthy of love can be. Her unique teachings will give you the ability to identify and walk in your calling, freeing you up to do what you love with who you love along the way.
When asked what loving someone looks like she responded with, "Love is accepting someone as they are while encouraging and supporting them to walk in the fullness of who God has called them to be. But it starts with you becoming a whole person yourself."
More Speakers To Be Announced
Still not sure if the Elevate Love Summit is right for you? Hear what our guests from last year's summit had to say about their experience.
During your stay at the Elevate Love Summit you will be intentionally placed into one of the many island rooms. Each room comes with its own intention that will keep you in a present state of mind all week.
Love Summit: July 30 - August 3, 2023
Investing in yourself is priceless and we can guarantee that a week spent on-island will transform elements of your life. See below for different summit payment options to invest in yourself.
*Price per individual. Single room is not guaranteed.
Finance for as little as $900/month
*Price per individual. Single room not guaranteed.
*Restrictions may apply. Single room is not guaranteed.
More Events
The Elevate Summits have been developed upon the 5 core pillars of an Elevated Life: Dream, Abundance, Presence, Strength, Love. Each pillar works together to create a synergy resulting in success and fulfillment in every area of one's life, therefore achieving Whole Life Success. See below if another event is a good fit for your journey.