If you're planning to travel to the beautiful British Virgin Islands, it's important to know what products you can and can't bring into the country. Familiarizing yourself with customs procedures and entry requirements can help avoid unforeseen delays, misunderstandings, and legal issues.
Every country requires travelers to go through customs when crossing an international boundary, whether by air, sea, or land. Understanding the rules for entry into the British Virgin Islands will ensure a simple and straightforward border crossing.
Ports of Entry into The British Virgin Islands: Air & Sea
Air travel is one of the most common ways to arrive in the British Virgin Islands. Passengers entering the British Virgin Islands by air must display a valid passport. Visitors from certain countries may additionally need a visa to enter.
Most tourists will go through customs and immigration while connecting to one of the British Virgin Islands' main airport hubs, which include:
Terrance B. Lettsome Airport (EIS)
Virgin Gorda Airport (VIJ)
Crossing the ocean is another popular way to get to the British Virgin Islands. All vessels that enter must clear with BVI Customs and Immigration as soon as they arrive. This entails presenting boat registration papers and a valid passport. BVI Customs and Immigration offices are located at the following access points when arriving by sea:
West End, Tortola: Monday through Sunday, 8:00 a.m. – 9:00 p.m.
Road Town, Tortola: Monday through Sunday, 8:30 a.m. – 7:00 p.m.
Great Harbour, Jost Van Dyke: Monday through Sunday, 8:30 a.m. – 4:30 p.m.
Spanish Town, Virgin Gorda: Monday through Sunday, 8:30 a.m. – 7:00 p.m.
There are also ports of entry at St. Thomas Bay and Gun Creek (reopening soon) in Virgin Gorda. However, you'll need to go to Spanish Town to clear customs. If you intend to arrive late in a sea-going vessel to one of the above-listed BVI ports, after-hours arrangements can be made in advance by calling His Majesty's Customs.
Import and Export Restrictions When Traveling to the BVI
When traveling to the British Virgin Islands (BVI), there are specific rules and regulations regarding what you can bring into and take out of the country. Anything forbidden or subject to tax, duty, or additional fees must be declared. Being aware of import and export rules can help to ensure a smooth entry process to the British Virgin Islands.
Personal items such as clothing, gadgets, and other souvenirs and gifts are generally allowed to be brought into and taken out of the British Virgin Islands. At the same time, it's important to be aware that import and export requirements change. So, while the following list describes export and import restrictions in the British Virgin Islands at the time of writing, it's a smart idea to check the Customs Department website (His Majesty's Customs, as linked in the previous section) before you travel.
When entering the BVI by sea or air, travelers over the age of 18 are permitted to import the following items without paying customs duties:
200 cigarettes
50 cigars
2 liters table wine
1 liter spirits
1 liter of other alcoholic liqueurs over 22% ABV
2 liters of fortified wine
Perfume (60 mL)
The following items are not allowed to be exported from or imported into the British Virgin Islands by air or sea:
Hazardous materials
Counterfeit money and goods
Illegal drugs
Arms, explosives, and ammunition
Knives and dangerous weapons
Dry ice (when traveling by air)
The following items are restricted. Additional documentation may be required to obtain permission for exporting or importing these items into the BVI from other countries:
Fresh fruits or vegetables
Meat products are prohibited from being imported and exported unless a special permit is acquired from The Department of Agriculture and Fisheries.
Pets are prohibited from being imported and exported unless import permission from the Department of Agriculture has been obtained.
Medications are restricted from being imported or exported but can be brought into the country in a bottle with a valid prescription and in quantities appropriate to the length of your stay.
Textiles and clothing: Used clothing should come with a fumigation certificate.
Large sums of cash: Travelers entering and leaving BVI territory must declare to BVI Customs the possession of cash (in any currency) valued at more than USD 10,000.
Tips for Clearing Customs in the BVI
If you're planning to visit our luxury spa resort for an all-inclusive stay or Elevate Summit, everything you need will be provided onsite. However, keep the following tips in mind for any additional items you choose to bring:
Any food that you bring should be in the form of packaged products such as canned or dry goods. Bringing fresh meat products could jeopardize or delay your trip. At The Aerial, BVI, we serve healthy and delicious island-to-table meals, so you won't need to worry about bringing preserved foods or snacks.
If you are bringing any of the restricted commodities listed above, such as medication, ensure you have all relevant receipts, paperwork (such as a prescription), and other forms ready to hand over to customs officers when you arrive. If you have any medications that need to be kept cold while traveling, consider carrying them in a cooler.
All of the items that we sell in our Giving Shop are fine to take out of the BVI.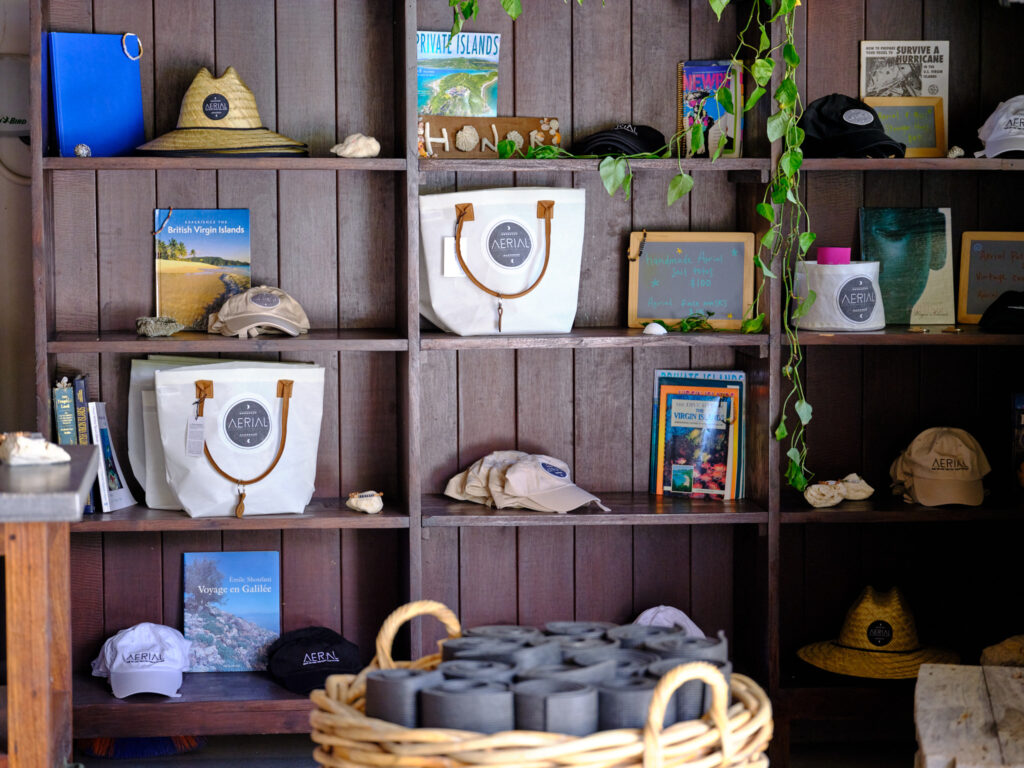 Research Ahead to Avoid Surprises
Responsible travel to the British Virgin Islands requires a bit of extra preparation and knowledge of governmental policies regarding import and export rules. Bringing products in and out of the country also involves compliance with customs procedures, product safety standards, and being aware of specific labeling and documentation requirements.
Before purchasing or attempting to export or import any items into the British Virgin Islands, it's always best to check with local customs offices. Once you are sure that all of the products you intend to bring into the country or take home with you adhere to customs guidelines, you can relax and enjoy the journey.