Have you given any thought to wellness travel? Luxury wellness tourism has seen amazing growth over the past decade or so, as physical and mental health, sustainability, community, self-actualization, and personal development have risen much higher on people's priority lists.
With all of the day-to-day tasks taken care of and no distractions whatsoever, luxury wellness tourism gives you the chance to focus exclusively on these goals with full support and idyllic surroundings.
What Is Luxury Wellness Tourism?
Luxury wellness tourism is the combination—but much more than the sum—of its parts:
Luxury
Wellness
Tourism
Luxury. You enjoy the best of everything: the gourmet cuisine, the most beautiful views, the most expert care, and the largest range of services and activities. The experiences provided are unique, customized, exclusive, and supported by one-on-one attention from professionals. There are typically a small number of guests sharing extensive built and natural spaces.
Wellness. The primary or secondary goal of luxury wellness travel is to become well, stay well, or kickstart a wellness lifestyle. To this end, luxury wellness tourism destinations typically provide you with modern and ancestral wellness treatments, nourishing meals, personalized health evaluations, customized therapies, fitness classes, mindfulness sessions, and active expeditions in nature.
Tourism. Luxury wellness travel destinations offer you a change of scenery, exposure to different people, cultures, and climates, and—most importantly—geographical distance from the noise and stresses of everyday life. If you're a primary wellness traveler, you may choose your destination based on the attractiveness of the natural surroundings or the offerings of the resort or retreat. If you're a secondary wellness traveler who's traveling for business or pleasure, you might take advantage of spa treatments and wellness activities to stay well while you're away from home.
According to the Global Wellness Institute (GWI), luxury wellness travel is "travel associated with the pursuit of maintaining or enhancing one's personal well-being". While the details can be very nuanced, that's really it in a nutshell.
Key Features of Luxury Wellness Tourism Destinations
What can you expect when visiting a luxury wellness resort, retreat, or hotel? While there are several different approaches to wellness tourism, most venues have certain core offerings that work to promote the physical, mental, emotional, and spiritual well-being of their guests.
Healthy, Nourishing Meals
Healthy eating is a cornerstone of luxury wellness tourism and a feature that's being adopted by many mainstream hotels as well. For physical health as well as sustainability, destinations typically craft plant-based meals using local produce—often produce that's grown organically on the grounds itself—which may be accompanied by wild-caught and wild-harvested ingredients such as fish and native herbs.
Sustainable Practices
As an extension of local, organic food, many wellness destinations implement sustainable practices across the board—building with natural materials, developing a zero-waste management approach, and working to benefit local communities and the environment.
The Aerial, BVI, for example, offers you the opportunity to participate in reef clean-ups, turtle tagging, and other environmental activities throughout the islands. These activities are tremendously fulfilling and allow you to connect back with nature and yourself.
Fitness Activities
During the day, you typically have a wide range of fitness activities at your disposal to ensure that you can stay active—or to help you kickstart a more active lifestyle. Hotels and resorts will often feature a swimming pool, tennis court, gym, and fitness classes as well as equipment for snorkeling, kayaking, sailing, and other outdoor pursuits. Retreats often run a more intensive program that includes group hikes in nature and a daily yoga class plus animal-based activities and therapies like horseback riding and adventure sports.
Mindfulness and Meditation
The importance of mental wellness has really come to the fore over the past couple of years, but ancient meditation and mindfulness practices can be found in almost every culture and religion—showing just how essential they are to a holistic approach to wellness.
Today, many luxury wellness travel destinations offer group or individual meditation sessions, research-based mindfulness training, and mindful movement workshops that strengthen your attentiveness and presence.
Spa Treatments and Wellness Treatments
Pampering has long been a feature of luxury travel, but in luxury wellness retreats and resorts, the spa experience is integrated into your overall wellness journey with the use of native flowers, ancestral beauty treatments, organic wellness products, and modern therapies.
If you're struggling with a particular health condition, luxury wellness resorts typically offer wellness treatments like acupuncture, therapeutic massage, hydrotherapy, sound baths, and even hippotherapy (equine-assisted therapy). All of these treatments are delivered by professionals and are tailored to your specific needs.
Creative Pursuits
Creativity is part of the human need for self-actualization, representing the top tier of Maslow's Hierarchy of Needs. To help you express yourself and work through trauma, rediscover long-lost hobbies, or even find a new calling in life, some luxury wellness retreats offer creative classes such as art, music, and dance.
Retreats with an onsite farm or garden might also allow you to take part in hands-on activities like cooking, gardening, and animal husbandry. Each skill—while sensual and pleasurable in itself—helps you to explore new aspects of your personality, reconnect with nature, and learn how to live a more sustainable life.
Inspirational Talks
As a luxury wellness traveler, you don't just want to feel good—you want to be transformed. Because of this, there is a growing trend of wellness workshops and summits at tourist destinations around the world.
While some venues—such as luxury hotels—may lend their meeting spaces as venues for health presentations or conferences, others—including The Aerial, BVI—host transformational summits focused on a particular area of wellness.
Through a combination of talks from world-class experts, wellness experiences, and hands-on workshops, you're able to leave inspired, transformed, and ready to apply what you've learned once you return home.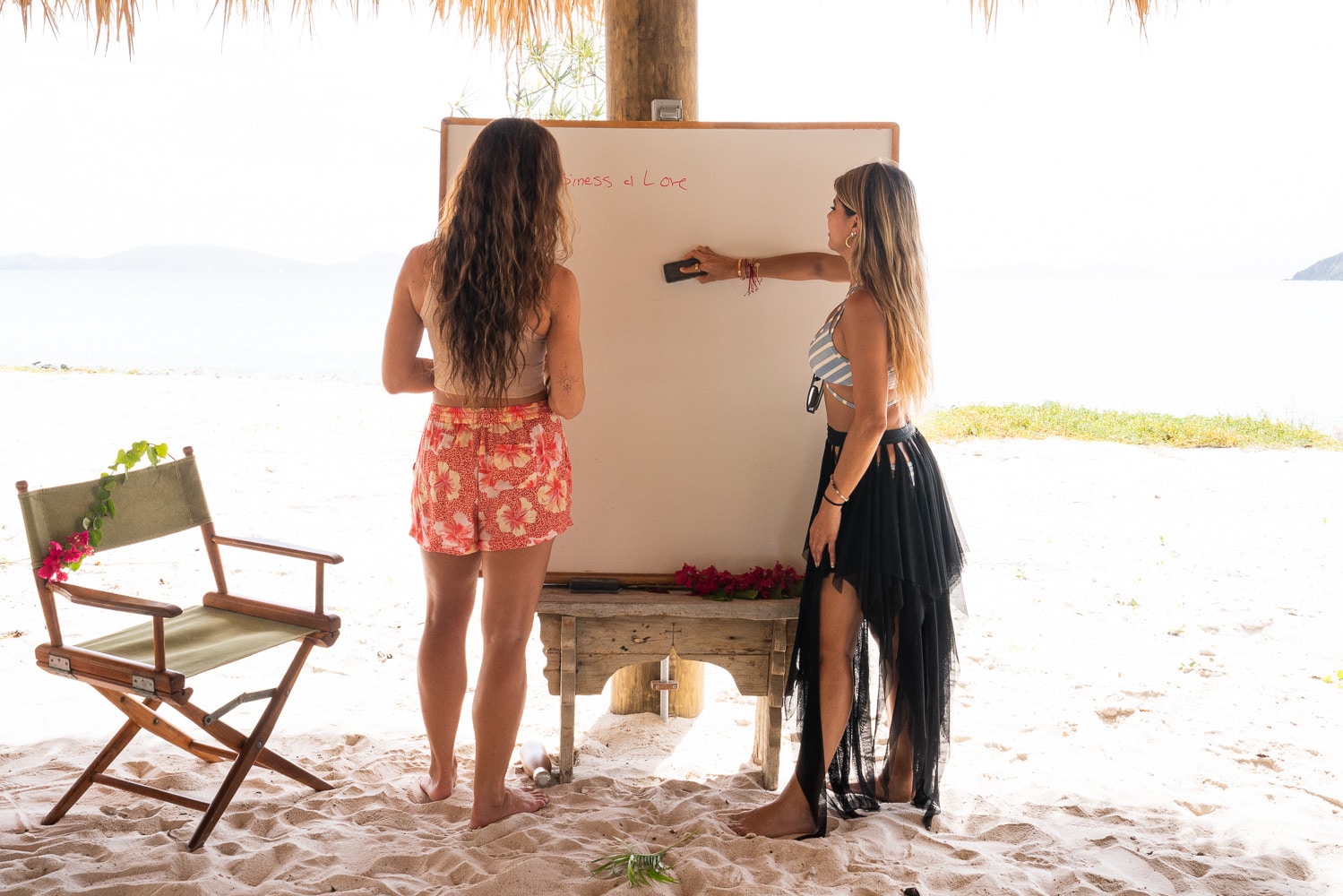 Community
Most of the items on the list—nourishing meals, hikes in nature, and meditation—are things that anyone can do at home. What really sets luxury wellness destinations apart is the chance for you to connect with other like-minded people.
At a luxury wellness retreat, your experiences and learning journey are heightened due to something known as collective effervescence—an effect in which group participants' heart rate dynamics begin to become similar.
At a time in history when traditional forms of community aren't as strong as they once were, this kind of temporary community fosters a strong sense of belonging and motivation and can forge friendships that continue long after the retreat has ended.
Who Invests in Luxury Wellness Tourism?
According to Anne Dimon of the Wellness Tourism Association, the wellness tourism market largely consists of women between the ages of 30 and 60 who have completed a higher education degree, but guests can include people from all walks of life.
What wellness travelers generally have in common is a strong motivation to improve or maintain their physical and mental health, a desire to live sustainably and thoughtfully, and a desire to reconnect with the beauty and healing properties of nature.
The Luxury Wellness Tourism Industry Continues to Grow
The growing popularity of luxury wellness travel is reflected in the amount of money spent on this kind of experience over the last few years.
Is Luxury Wellness Travel for You?
A luxury wellness travel experience can be a significant investment, but one that can change your life for the better.
If you're struggling with healthy eating, staying physically active, feeling run down, or finding your purpose in life, a wellness trip can help you reset, recharge, and refocus so that you can come home and find your part in creating a better, happier, and healthier world. Book your stay at The Aerial, BVI, and make a commitment to your own wellness.